Is this the shape of travel to come
By Michael Seaforth
How many times have you given up on an idea after toying with it for just a few days? Dr. Paul Moller, of Moller International has shown that he does not belong in that category. From his early childhood in rural British Columbia, Canada to his current work at Moller International, he has shown an tremendous capacity to persevere where others might have lost faith.
His company, Moller International Inc. of Davis, California is betting that consumers are ready to embrace a radical new way of travelling by foregoing traditional commercial flights for the convenience of the Moller M400 Skycar. What many still view as science fiction may soon become reality - science "faction". With investments of more than US$100 million over the past 3 decades, Dr. Moller and his team are in the early stages of ground testing their flagship M400 Skycar VTOL (vertical takeoff and landing), 4-seater personal vehicle. Because of the complexity and ground breaking nature of their R&D, a firm completion date is not yet available.
Powered by eight specially designed rotary engines producing 960 hp, the Skycar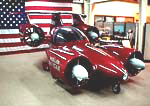 will be able to transport passengers between US destinations in a pressurized cabin at a cruising speed of 350 mph at just 15 miles to the gallon. It will have a range of 900 miles, fly up to 30,000 feet and use regular automotive gasoline. An earlier version, the 2-seater M200X, has made more than 150 successful hovering and low speed flights, over the past ten years and is the inspiration for the M400.
The pilot of the Skycar will use two hand-operated controls to control speed and direction but it is the automated management system consisting of three independent computers that will actually fly the aircraft. Only one computer is needed for operation. In the event of a serious system malfunction, two parachutes will be deployed to guide the vehicle and its occupants to a safe landing.
Stacy VanAbrahams, Public Relations Director at Moller, told Innovationhouse.com that based on current projections, the M400 Skycar could be available to the general public within 5 years. Already, reservations for over 75 Skycars have been secured with deposits. For more information on the M400 Skycar, visit http://www.moller.com.
Moller International has also produced and delivered unmanned aerial vehicles (Aerobots) capable of vertical takeoff and landing and hovering, aerobots, to several customers. Applications include bridge and freeway inspection, remote sensing and aerial photography. Obviously, Dr. Moller and his team are unaware that in 1899, it is claimed that Charles H Duell, then commissioner of the US patent office, said "Everything that can be invented has been invented."

Copyright © 1999 - 2001 Innovationhouse.com. All rights reserved.