You can now instantly verify the authenticity of money you take in from your business transactions and significantly decrease any losses from counterfeit bills.
The CASH-TESTER CT 2002, is an electronic microprocessor based scanner about the size a cell phone and weighs 105g (3.7 ounces) with the two AA 1.5V batteries installed. This new state of the art device is your best solution for counterfeit bill detection. It performs optical, electromagnetic, IR, UV and high frequency tests to determine whether a bill is genuine. Even high quality counterfeit notes and bleached-out bills, two of the most difficult types to detect, will not pass if the CASH-TESTER is used. For more details, please see the FAQ.
Simply slide the bill through the slot in the unit and an LED light and an audible sound will immediately indicate whether the note is genuine or counterfeit. It requires no special training to operate so human error is practically non-existent. If the CASH TESTER will not be worn by the user, it can be connected to an external power supply.
The CASH-TESTER CT 2002 replaces old fashioned UV-lamps which do not have the ability to detect the high quality counterfeit bills now being produced. Even homemade counterfeit bills are often made with fluorescent ink so traditional counterfeit detection machines are ineffective. From time to time, you may receive counterfeit bills from automatic teller machines or even from your bank.
Post offices, banks, delivery services, retailers, taxi drivers, flea market operators and even casinos can now benefit from the CASH-TESTER since it detects official bank note security marks and other features not normally found on counterfeit currency.
FEATURES
Easy to use - no prior experience required
Instant test results - provided by state of the art microprocessor technology
Extremely accurate and secure product
Can be programmed to check two different currencies
Software updateable to accomodate future currency redesign
Can be used in stationary or mobile applications
Energy saving standby mode
CE certified (CE0700)
One year warranty
The CASH-TESTER is available for the US dollar and the EURO.
ACCESSORIES
Cash Tester Mount (see picture on right at top of page)
Set-Screw adjustment, wrench included ¤ Head plate molded from durable short glass fiber reinforced composite alloy ¤ Shaft made from aircraft grade aluminum alloy ¤ Foot molded from durable long glass fiber reinforced composite alloy. Concave design evenly distributes mounting load for maximum stability eliminating "carpet float" ¤ Fully adjustable at both ends, pivots 210° and rotates 360° ¤ Housings incorporate a special serrated ball contact that greatly increases gripping power at the adjusting points ¤ Available in 6" (152.4mm) overall length ¤
Neoprene Clip-On Case (Belt attachment)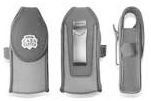 Use to attach the CASH TESTER to a belt or similar mount