Economy Solar Lantern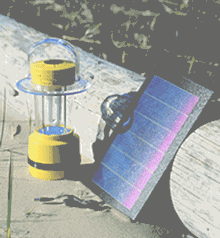 No fuel. No replacement batteries. No mantles. No environmental risk
The SOLARIS lantern combines many features that are desirable in a solar lantern. These include:
Safe for the environment
Compact, lightweight, easy and convenient to use
Shorter charge time and longer run time
No accessories to purchase
Won't scratch, dent or rust
Safe to use (no fuel to carry; no risk of fire)
No maintenance
Weather resistant - works in the wettest conditions
The high tech battery used in the SOLARIS is now the primary type used by automakers for electric vehicle development. This high performance rechargeable battery can provide up to 6 hours of continuous use when fully charged. Users can expect more than 500 charges cycles before battery replacement is necessary. A custom circuit discharge protector ensures years of battery life.
The space-age solar panel used in the SOLARIS is also unique. Small, thin and flexible, this solar panel works best in normal sunlight but also performs effectively in high temperature and low-light conditions. The solar panel can be used independently to power small electronic devices like beach radios, walkmans and MP3 players.
The SOLARIS offers many safety advantages over other portable lanterns. The risk associated with the use of kerosene lanterns is eliminated. Fire, fumes and explosion hazards no longer exist, there is no need for fuel cans and there is nothing to spill. Plus, these solar lanterns can be used safely inside an enclosed space since no carbon monoxide or sulphur dioxide is released and no oxygen is consumed. The environment is protected because there are no toxic lead acid, cadmium or alkaline batteries to dispose of.
To charge the lantern, simply plug the solar panel into the lamp and place both in the sun. Energy is stored in the nickel metal hydride battery used to power the compact fluorescent lamp.
SPECIFICATIONS
Cost of operation: none
Total weight (incl.lamp, battery and solar panel): 2.06 lb
Charge time (from dead battery): 13 hours
Run time: 4.5 to 6 hours per charge
Height of lantern: 8.9" (226 mm)
Diameter of lantern: 6.0" (152 mm)
Bulb: energy efficient compact fluorescent
Solar panel: 8.2" x 11.25" (210 mm x 287 mm)
| | |
| --- | --- |
| | Discontinued by Manufacturer |
This lantern is very popular with boaters, campers and outdoor enthusiasts.
Price in $US
---