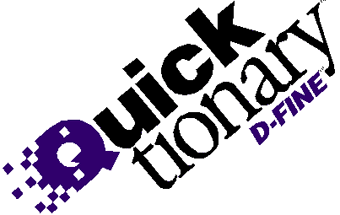 The latest word in understanding every English word
- About Quicktionary - Product Lines - Technical Data - Order - Home -
The ultimate English dictionary
Automatically displays definitions, phrases and idioms of words you scan
Features over 400,000 scannable words and 200,000 definitions
Works on printed material in a wide range of fonts and letter sizes
Keeps a history of scanned words
Scans inverted and hyphenated text
Adjustable for left or right handed users
Quicktionary D-FINE features the American Heritage College Dictionary 3rd Edition
Quicktionary D-FINE Oxford features the New Oxford Dictionary of English of the Oxford University Press
Scan a word from any printed text
See the various definitions, phrasal verbs and idioms of the word you scanned
See also the phonetics, etymology, alternative spellings, parts of speech, examples of usage, usage notes, derivations, labels, synonyms, etc
Choose from several display modes to see only the information you need
Q: Can I determine which elements I see on the display window?
A: Yes. You can choose between the Full and Reduced settings in the menu in order to set your QT according to your needs.
Q: Can I go directly to a cross reference or synonym from within a definition?
A: Yes. You can use the Highlight Mode in order to select a word from within a definition. Pressing Enter will display the definition of that word.
Q: Can I find phrasal verbs and idioms in the QT?
A: Yes. Each definition in the QT D-FINE is followed by phrasal verbs and idioms as well as etymologies, alternative spellings, examples of usage, usage notes, derivations, labels, synonyms, etc
Q: Does the QT switch itself off automatically if I forget to?
A: Yes, The QT has a built in automatic shut-off function which you can set from 15-240 seconds.
Q: Can I also use the QT to scan words hyphenated at the end of a line?
A: Yes. The QT has a special function that allows you to scan the first half of a divided word, followed by the second half on the next line. It then reads these two halves as one whole word.
Q: Does the QT read white on black text too (inverted text)?
A: Yes. One click on the left arrow button adjusts the QT to reading light text on a dark background.
Q: I am left-handed, Do I have to scan like a right-handed person?
A: No. You adjust the QT very simply for left-handed use.
Q: Can I translate words printed in very large fonts?
A: Yes. You can use the Opticard to enter words that are too large to scan, such as words appearing on billboards, signposts, etc.
Q: Does the QT translate English slang expressions too?
A: Yes. The QT contains more than 15,000 expressions and idioms in English, including a large selection of up-to-date slang usages.
Q: What is the advantage of using the QT rather than my familiar printed dictionary?
A: The QT allows you to look up the translation of a word without having to put down your book or newspaper. In addition, it presents you with the translation within seconds.