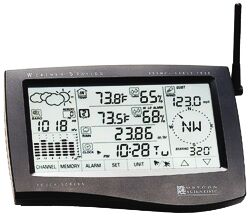 Price: $299.99
Optional Sensors
THGR268 - Remote Thermo-Hygrometer Sensor. It collects both temperature and humidity readings and features an on-board LCD screen. Price: $34.95

THC268 - Remote Temperature Sensor with Waterproof Probe. It has an attached waterproof probe on a 10" cable and is ideal for monitoring hot tubs, swimming pools and freezers. Price: $34.95

No more stretching wires under windows and through walls! Now you can monitor the weather and environmental conditions in and outside of your home or office with this complete Cable Free™ Weather Station from Oregon Scientific.
Innovative wireless outdoor sensors operate on solar power for simple installation and sophisticated use. Perfect for the home weather watcher. It comes completely equipped with every sensor necessary for total weather monitoring: temperature, humidity, barometric pressure, wind speed and direction, and rainfall. 7- channel capability accepts up to three additional sensors. The indoor touchscreen control console with blue HiGlo™ backlighting is only about 7"wide - perfect for desktop or wall-mount use. Add the optional PC link and software package and view your weather station data on your personal computer. An exceptional gift item or indulge yourself.

Actual size: 2.75"x0.75"x4.0"