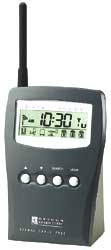 | | |
| --- | --- |
| Price | $139.95 |
| | Item not yet available |
| | |
| | |
Oregon Scientific's Weather Information Data Logger Model DL918A extends and enhances the data collection capacity of the Oregon Scientific Cable Free™ Weather Station. Automatically utilizing radio waves at 433Mhz, the Data Logger records data sent to it by the Cable Free™ weather station remote sensors for up to a week at a time at full cycle rate. The Data Logger supports up to seven Cable Free™ remote sensors. As the Data Logger receives data, the information is time and date stamped for easy event identification and tabulation. Download the information collected by the Data Logger to a PC via the RS-232 port. Create graphs or charts, calculate averages and totals, and analyze trends using the included software. Other Data Logger features include an ExactSet™ atomic clock with calendar, display of memory available/used, and a low battery warning icon. It operates on 4 AA size batteries provided.

Actual size: 3.5" x 2.1" x 5.1"
Features:
Extends and enhances data collection capacity of the weather station
Uses 433 MHz radio waves to record data for up to a week's time
Features an ExactSet clock with calendar, memory display and low battery warning
Download the information to your PC via the RS-232 port
Data is time and date stamped as it is received for easy event identification and tabulation
After downloading information to PC, graphs or charts can be created to calculate averages and totals and analyze trends
Supports up to seven remote location sensors
(Price in $US)